Useful information for exhibitors at Nordental:
All exhibitors are welcome to use the logo for the exhibition Nordental in their own marketing. Please note that the logo for the national convention is only available for sponsors.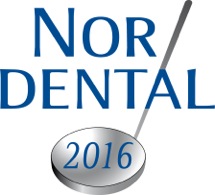 The maximum construction and decorating height for a stand is 2,5 metres. If you are planning to build higher, you must send an application to the organizer. An application for such permission must include a plan with exact measurements and a specification for the construction materials to be used. The application must be sent to nordental@npg.no by 1 October. in addition neighbouring stands must approve to this.
It is not allowed to use the saw, sander or such without the suction inside the exhibition halls of assembly time.
For safety reasons, children under 16 years are not allowed in the exhibition halls during build up.
Smoking: Smoking is not allowed in the exhibition centre.
Waste: The organizer will take care of regular waste after the exhibition. The exhibitor must ensure the removal of all discarded stand material, including carpets. If the exhibitor leaves stand constructions or waste, the organizer will remove it at the exhibitors expense.
Refuse containers, pallets and trailers can be ordered from the organizer's own cleaning company.
Fire regulations: All exhibitors must read the fire regulations.
Aisles: Please make sure the ailes are free of goods and equipment. Evacuation routes/amergency exits must not be blocked.
Storage of packaging materials: Order storage of packaging materials by the forwarding agent. Unmarked goods can be removed by the organizer for the exhibitors expense.
Questions? Please contact Norwegian Promotion Group at nordental@npg.no or telephone +47 23 23 41 00.